The life of human is not just about busy city life and high perk jobs, it becomes more fruitful, when they get a chance to explore the world, and travel is the only thing that can stuff human with experiences and valuable knowledge. So, being a hard core lover of travel, I always insist you to never miss a chance to travel and explore the unknown places. Here I would like to share you my experience in exploring Wayanad's, not much known, but the traditional tribal circuit.
About Tribal Ciruit
The tribal circuit of Wayanad, the most beautiful hilly district of Kerala, is one of the least explored tourist destinations under Wayanad Tourism Promotion Council. Tribal circuit of Wayanad comprises of 6 destinations, each one shows the traditional way of tribal life and living. The tribes of Wayanad are one of the oldest tribal groups in the country. A trip through the meandering forest paths of Wayanad will help you to realise the beauty of traditional way of living.
When I reached Wayanad for the first time in search of tribal circuit, i didn't expect much other than the jungle, tea plantations, long views of some wild animals and some scattered tribes working in plantations, but when my journey has started i found that Wayanad is something more than my expectations and it can provide all kind of fun, adventure and entertainment to the tourists. This land is blessed with valleys, earth dams, and waterfalls too.
I had started my journey in the misty morning of may 3rd since reaching there at Kalpatta , the main town of Wayanad on 2nd May. The month of May really provides a excellent visual treat to all visitors with calm climate and mild haze has made it a great experience for me to peep into the deep forest at 6 AM. We can access the District Tourism Promotion Council staffs to enter the tribal circuit. I was assisted by TK Sareesh and Sijo, guides of WTPC as the meandering forest roads from one destination to another seemed confusing. A journey through the mysterious land of tribal groups, which spreads over six different locations, gives to memories that left forever.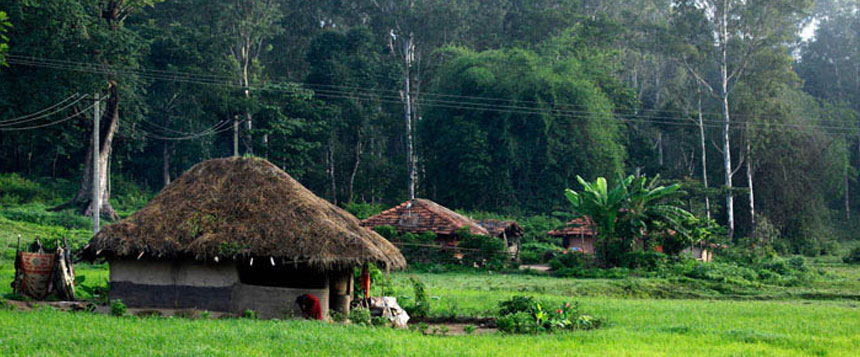 The hidden beauty of Nellarachal
From Kalpatta, it was about 26 kilometres journey through the winding tea plantations to reach Nellarachal. It is one of the fine-looking villages of Wayanad. This place is blessed with the plentiful offerings of nature. Grassland, valley, jungle and even a beautiful river can be seen here. This beautiful land blessed with paddy fields is also known as the rice bowl of Wayanad. My travel through the Nellarachal tribal circuit seemed to be back t the rhythm of nature. The proposed tribal circuit comprises places like Nellarachal, Trikkaipatta, Adivaram, Urav, Karappuzha, Ambalavayal and Cheengeri villages. The journey to the tribal circuit starts at Nellarachal. From Nellarachal, one need to take right side deviation of about 12 kilometres to reach the first destination, Urav, the Bamboo Village
Urav, the world of bamboo
Our first destination was Urav, the Bamboo village, Urav is an institution, which teaches the making of bamboo products. Hundreds of tribes gets involved in bamboo product making process. With the abundant bamboo resources they creates lamps, showcase ornaments, chariots, jewellery, bamboo bridges, flowers and even clocks. On an average, almost hundreds of tourists come here daily to check out the bamboo wonders. If we want something, we can purchase that from Urav. I could see thousands of bamboo products there. Urav also conducts bamboo fests in every year. It is one of the main sources of income for the tribes.
The rich rhythm of Thudi
Next to Urav, we i went to explore Thudi, which is situated at Cheengeri, the place famous for the cultural melody of thudi, a musical instrument used for all tribal marriages and other functions. At cheengeri, we can see the making of Thudi instrument. There I met Vellan Mooppan (Head of the tribe) there. He is the head of the Paniya tribe . He is an expert in making thudi. The mooppan has explained the tourists about the production of thudi. The instrument is built using the wood of a jackfruit tree. Thedivice is small in size.But it takes 18 days to complete a single piece. The music from the Thudi was enthralling. People can buy this instrument from here.
Tribal paintings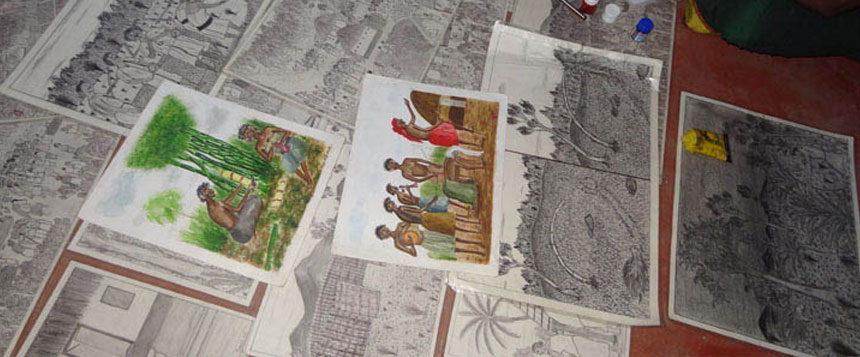 Moving away from Cheengeri, I went to meet, Rameshan a tribal artist , excelled with his creative paintings . His house is just 3 km away at Thrikkaipatta. He belongs to the Kattunaykar tribe. His house was exactly looked like an art gallery. His works are mainly with oil and water colour. He often makes pencil drawings. Each of his paintings describes the tribal culture, rituals and customs. His paintings describe the centuries old existence of various tribes, and their evolution through the years. He describes everyone about the inter meanings of his paintings. It was really a great experience with him and his paintings.
Karappuzha, Earth reservoir
The fourth destination was, Karappuzha Earth reservoir. I need to take just 4 km ride from Rameshan's house to Karappuzha. Rocks and vast areas of grass lands , extensive water bodies etc are the main attraction here. It is the third largest earth dam in the world, which offers chance for thrilling fishing and boating. We can see the reservoir banks are surrounded by the thick forest which is the abode of nearly a thousand birds. I could have the tasty tribal food from Karappuzha.
Archery experts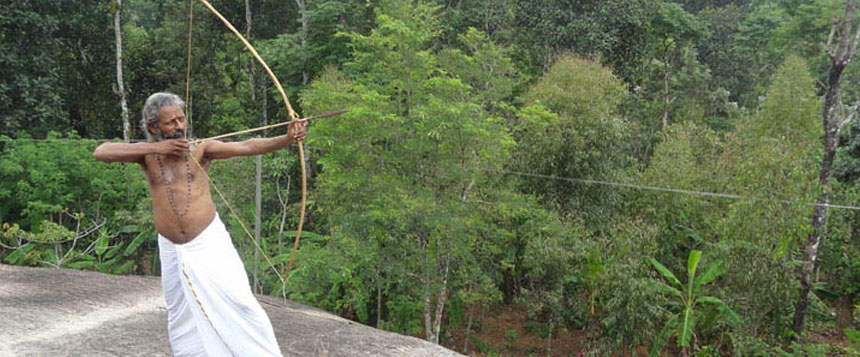 Next to Karappura, I have taken a 7-kilometer journey to Ambalavayal. This place known for the population of Kurichya tribe, who are good at archery. By reaching Ambalavayal around, 2 pm i met Govindan Aashan, head of the Kurichya tribe and an expert in archery. He practices archery and teaches the young Kurichya kids the lessons of archery. He introduces various types of bows and arrows made of bamboos. He has a large collection of bows and arrows at his home I had a great time with Govindan Aashan, and tried my luck in archery.
Delicious tribal cuisine
Last but not least, the final destination in the circuit was really mind blowing , especially, if you are a great lover of food. Here, we moves back to Nellarachal, it is certainly the favourite place for foodies.I could try my hand at tribal cuisine here. The really mouth-watering aroma of chuttakozhi, a chicken delicacy and kallipitt,this dish alone is enough to fill one's tummy. The main thing, I loved about tribal food is , it is hundred percent chemical free. It was Kannan mooppan , who prepares the tribal food for visitors.
There were kappa puzhungiyath, chammanthi, kozhi varatiyathu, kondattam, choru, and payasam. I could have the rice prepared with Gandhakashala Rice, one of the variety of Wayanad, spreads the smell of jasmine flowers. The uniqueness of tribal food is the Payasam (a sweet dish) made of Mulayari (bamboo rice).Bamboo rice, is available only once in 60 years and is quite nutritious.
It is a great opportunity to spend a day in aligns with traditional tribal life. If you miss this opportunity, you are missing the best part of your life as a traveller. So, I would suggest you, whenever you get a chance just head to Wayanad, Tribal village and have the rich experience of your life.
Other tourist attractions
Banasura view point

Soojippara waterfalls

Wayanad heritage museum

Edakkal caves

Kuruva island

Chembra peak

Pazhassi tomb

Thirunelli temple