Muzhappilangad , The beach that drives you crazy
Travelling has been always a passion for me. I would like to known as a traveller rather than a tourist, who comes to one place and goes to another with some photos and selfies in hand. For me, travelling is something that leaves information and some good memories of the place I visited. For me, its not thephotos and selfies that matters. I always take care of the experiences that I gains in each travel. When i consider this outlook of mine, I can say that my last month's trip to Muzhappilangad, the longest drive in beach in India is something really great.When I reached at Muzhappilangad beach, I could not believe my own eyes seeing such an extended beach area, which is literally clean and the water is deep oceanic blue in colour. For every Keralite, it's a difficult task to believe that this beach is really hails to Kerala. There is no wonder in saying that Muzhappilangad is the most beautiful beach in Kerala. The beautiful and calm muzhappilangad beach area is located near National Highway 66 between Kannur and Thalassery.
Being Kerala's only drive-in beach, Muzhappilangad coastal area draws tourist within and outside India. The beach area stretches across four kilometres of sand where one can drive down the entire length. There won't be a word to describe the beauty of this beach and the pleasure of beach outing. Vehicles are obtainable here for beach journey. If you are taking your own car or bike , you can have the fun at maximum .
The drive here is ideal for sampling the famed Malabar cuisine from the many eateries in the immediate hinterland. Even two wheelers can have a beautiful ride here. This beach will make you romantic and crazy for no doubt. We can also see a large raw of black rocks here. These black rocks guard this extended, dirt-free beach and by making its shallow waters a swimmer's paradise. Even though Goa has many beautiful beaches, it does not have a Drive-in beach.I had a drive of 30 minutes through the long shore of Muzhappilangad beach. It was very nice to see the waves kissing the windows of my Car. The soil also semi black in colour filled with metallic components. We can also see some marine creature while having a long drive through this area.
Muzhappilangad is also famous for its well known marvelous beach feasts. An annual beach festival is celebrated here in the month of April and it is one of the important tourist attractions in the district of Kannur in Kerala. The people also try many driving stunts in cars here, like drifting and wheeling in bikes as this is a paradise for driving along the shore. You can see and visit a private island in this area, which is just 100 meter away from the beach area. People can be reached by walk at times of low tide. People used to conduct beach races also here.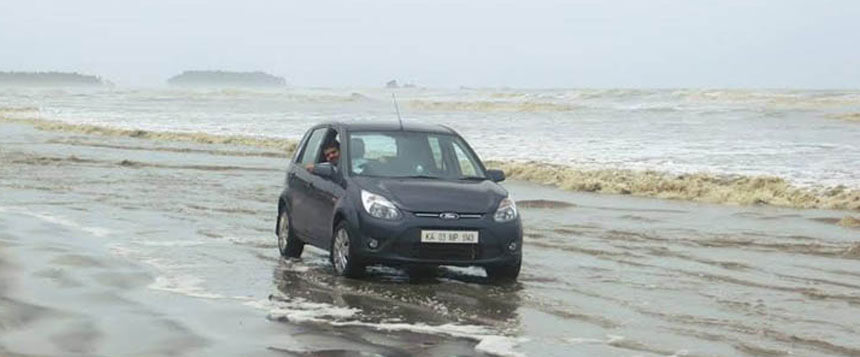 Roads and other facilities
The road which leads us to the beautiful Muzhappilangad beach is awesome t make your journey a memorable one. The meandering, unpaved road will give you a chance to enjoy the typical village structure of Kerala roads. Even though it is unpaved, it possesses a special beauty. Most of the travelers are visiting Muzhappilangad only through this road. To join with this road, coming via Thalassery, take the left turn just before the first railway crossing you encounter after crossing the Moidu bridge. The beautiful beach is about 5 km long and curves in a wide area providing a good view of Kannur on the north. The travelers can drive for a full 4 km directly on the sands of the beach. The beach is bounded by black color rocks, which also protect it from the stronger currents of the ocean.
Even though, I visited Muzhappilangad in this monsoon season, the best time to visit the marvelous beach is winter. Since the late 90's, the beach has seen a steady influx of European tourists during winter. It is a must see destination for Indians as well as foreign tourists. After beautification process in the beach there has been a huge improvement in the facilities available to the beach visitors including resorts, roads, etc. The beach area is wide and the sand is firm enough to support smooth driving. Muzhappilangad is also a famous shooting destination. It was the main location for many Malayalam and non- Malayalam movies.
The serenity of Dharmadam Island
Another specialty of Muzhappilangad beach area is that, once you visit this place, you can also make some other tourist places, in which Dharmadam Island is of great importance. It is approximately 100–200 m south of the beach. This is the private island that I mentioned in the beginning of this travelogue. Dharmadam Island is truly a surprise that waits here for the tourists. Dharmadam Island is also known as , Pacha thuruth in local language, which mean the green island. The name was given after the rich flora and fauna of this area. It is possible to walk to the island during low tide.Other than Dharmadam island, Pappinissery snake park, Sree kurumba devi temple, Kizhunna beach, Holy Rosary church etc are the main attraction here. It will be a great day for a traveler, if he/she can spend a whole day in this beach. Being much crazy, passionate and fanatic after travel, you can enjoy the maximum here.
How to reach at Muzhappilangad
Kannur is the nearest Railway station, which 16 kms away

Calicut International Airport is the nearest airport, which is about 102 kms away